Central Block, Ground Floor
Indian Sculpture
The Salar Jung Museum has some rich Indian stone sculptures though few in number. In ancient Indian sculptures we often come across sculptures with diverse traits reason being, sculptors who were proficient in the sculptural style of their own region were often moved from place to place in order to acquire knowledge of the art of other regions. The knowledge back then was passed from father to son, the sculptors had their own guilds and were given the highest order in society.
The Indian sculpture gallery has forty-three stone sculptures ranging from 1st century B.C to 19th century A.D. The sculptures are made of sandstone, granite, limestone and marble. The gallery has twenty-four Hindu sculptures, six Jaina sculptures and five Buddhist sculptures. Some sculptures date back to as early as the 1st & 2nd century from the 'Gandhara' and 'Mathura' period. The Salar Jung museum has the privilege of housing two rare 'Schist' stone sculptures of Gandhara period and a couple of buff stone sculptures from the Sunga dynasty.
Nagarjunakonda on the banks of river Krishna, is one of the famous Buddhist centers in India. The Ikshvakus from the Vijayapuri area ruled Andhra during the 1st and 2nd century by defeating the Satavahanas. They patronized Buddhism and produced many sculptures one being a 'Ikshvaku Buddha' (standing Buddha) with a 'tilak' and curly hair in limestone.
Contemporary with Gandhara school, an indigenous school of sculpture arose at Mathura under the rule of Kushan kings, 'Buddha in 'Dhyana mudra' and a 'Salabhanjika' of Mathura period are some of the prized possessions of the Museum.
The Gupta dynasty (320 A.D - 540 A.D) is said to be the 'Golden age' of India in the field of art, culture and literature. Salar Jung museum possesses a fine collection of granite sculptures depicting Hindu themes like "Vishnu with two consorts" from Mathura and "Yaksha with two consorts" from Kosambi. "Anantasayi Vishnu" is one of the prized possessions of the Museum, it projects Vishnu lying on a serpent, with carvings of his 10 incarnation and Garuda at his feet, this sculpture made during the 'Kakatiya' dynasty (11th-13th centuries) represents a Hindu mythological theme.
The museum gallery has six Jaina sculptures. There are two standing sculptures of 'Parsvanatha" and "Mahavira" with a canopy and seven headed Naga and tirthankaras at the four corners, inscribed with Kannada script, and made in Basalt stone.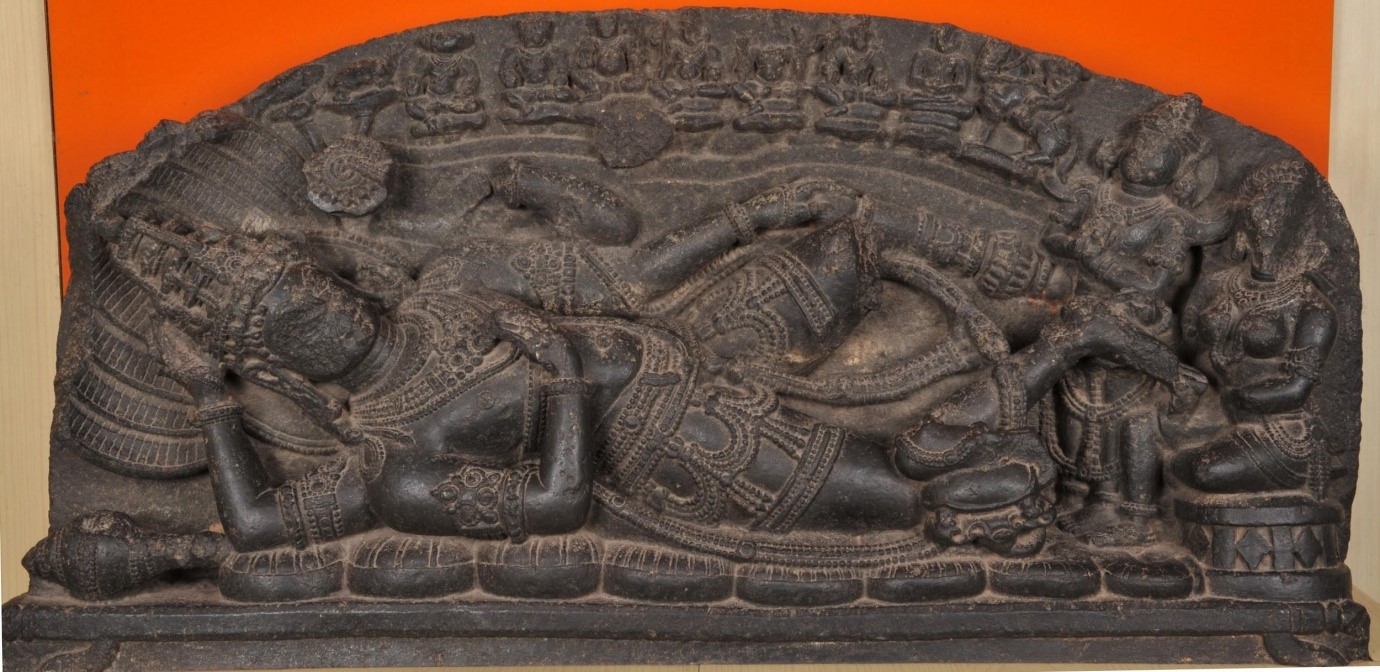 Anantasayana Vishnu,Granite, Kakatiya period, 12th century A.D.