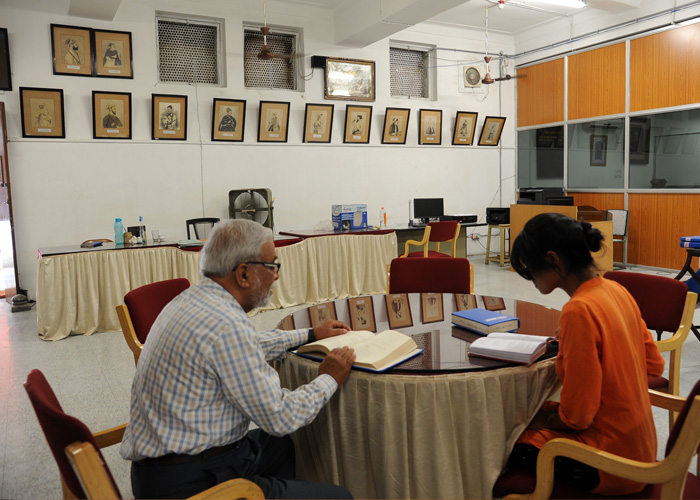 Salar Jung Museum Library
Salar Jung Museum Library opened to the public in 1961 by an Act of Parliament. The manuscripts collection in the library, which possesses unique Specimens, is one of the richest in the world in terms of its quality. It contains many gems of calligraphic art and ornate embellishment; items with gorgeous decoration and an artistic blending of colours with a profuse use of gold, mineral colours that lavishly used lapis lazuli for blue, pearl for white, shangraf for red and Zabarjad (emerald) for green. Calligraphers, artists and book binders all did their best in showing their respective arts and have thus paid their tributes to the written word.
The Salar Jung Museum Library includes a collection of books and manuscripts acquired by the Salar Jung's family. The origin of some of the collection dates to 1656 A.D. It was given the shape of a well-knit and full-fledged library by Nawab Mir Turab Ali Khan, Salar Jung I, which was further augmented and developed by his son Nawab Mir Laiq Ali Khan, Salar Jung II and finally by Nawab Mir Yousuf Ali Khan, the Salar Jung III. The Library and the Manuscripts Sections are situated on the 2nd floor. The rich collection of the Library consists of 62,772 printed books of which 41,208 are in English, 13,027 in Urdu, 1108 in Hindi, 1105 in Telugu, 3,576 in Persian, 2,588 in Arabic and 160 in Turkish languages. The English printed books include research journals, albums of rare photographs and valuable engravings. A paramount feature of this vast collection is that it covers a plethora of specialized fields of learning ranging from the fields of Art, Architecture, Archaeology, Physical, Biological and Social Sciences, Literature, History and Travel. It also includes collection of religious books on Islam, Hinduism, Christianity and other religions. The oldest book in the collection is an English volume printed in 1631 A.D. The library is constantly replenished with latest arrivals covering subjects like Art, Sculpture, Paintings, Ceramic Arts, Decorative Arts, Museology, Tourism etc. Research scholars (both from India and abroad) regularly visit the Library apart from the staff of the Museum. On an average, ten persons a day use the library to enrich and expand the origins of their learning.
PRINTED BOOKS COLLECTION
English Section
The English Section. consists of nearly 40,000 books and is also having rare book collections. It covers a variety of subjects ranging History, Philosophy, Engineering, Biology, Literature and Biography. The oldest book in the library is: "General history of the Turks" by Richard Knolles, 1631 A.D. There are certain autographed titles in the collection. One of them is a book presented to Sir Salar Jung I by Queen Victoria titled "Leaves" from the journal of our life in the Highlands from 1848 to 1861". The library also has a biography of Guru Nanak "Janam Sakhi" The collection also has translations of important literary works for example, "The Ocean of Stories" is an English translation of "Katha Sarit Sagara" The library has a huge collection of books on history of the entire world.
Oriental Section
This section contains around 19,000 printed books. Around 13,000 are in Urdu, 2,500 in Arabic, 3,500 in Persian and 160 in Turkish. It covers a wide range of books on subjects including Islam, Literature, History, Medicine from different countries like Iran, Iraq, Syria, India, Pakistan etc. Many books are available on the history of the Deccan. Literary works of the classical poets of Urdu are available in the library in this section.
Manuscripts Collection
The collection of manuscripts includes various media like parchment, textile, palm leaf, paper, glass, wood, and stone, different languages such as Arabic, Persian, Urdu, a few of Turkish, Dakhni, Pushtu, Hindi, Sanskrit, Telugu and Oriya and addresses more than eighty-four subjects. The collection also includes more than one thousand five hundred calligraphic panels and albums of miniature paintings of different schools.
The range of subjects is very wide and includes Medicine, Science, Logic, Agriculture, Calligraphy, Lexicography, Mathematics, Physics, Astronomy, Games, Art, Syntax, Music, History, Poetry, Biography, Rhetoric, Philosophy, Etymology, Ethics, Politics, Travels, Divinations, Ouranic sciences, Theology, Sufism, Law, Dictionaries, Magic, Archery etc.
The manuscripts are related to an array of Indian religious including Islam, Hinduism, Christianity, Zoroastrianism etc. These manuscripts are in various shapes, sizes and forms. It may be noted that there are only two miniature manuscripts copies of the Holy Quran in the world, and while one of these in the Iran, the other is in the Salar Jung Museum and its size is 2.4 CMS. The museum also has a large Quran which measures 60x30 CMS. Some calligraphic panels are incised on glass, and the Museum has manuscripts with excellent nail work. The other calligraphic works are' in many scripts, like Kufti, Thulth, Naskh, Ta'liq, Nasta'aliq, Gubar, Raihan, Shikasta, Diwani, Riqa, Bahar, Tughra, Ma'akus and in styles differing from the bold and archaic to the minute.
Arabic Manuscripts
The library has a collection of more than 2,500 manuscripts in Arabic, its highlight being that rare work on mathematics entitled Sharhu Mukhtasar al Mukhtasar on Algebra (847 AD). In astronomy, the earliest work in on the preparation and use of globe (16th cent). In the field of Medicine, the library boasts of manuscripts of Kilabul Qanun by Avicenna (Ibn Sina). In natural history the noted works are Hayatul Haiwan. In the field of Philosophy, an encyclopedia work in the library is Rasiallkhwanus Safa (16th cent). AI Tajrid fil Mantiq is well known work on logic written by Nasiruddin Tusi (1628 AD) and manuscripts of Ala Sharhil Malali is a copy from the imperial library of Emperor Jahangir. Manuscripts on Islamic theology that deal with Adiyah (Prayers) of Shiites and Sunnites, jurisprudence and Sufism also form a part of the collection. Ta'arruf Ii Madhabit Tasawwuf is a rare work on introduction to the Principles of Sufism (Delhi-1675 A.D). The earliest codex of lexicon is Sahah by Abu Nasr (1218 A.D). Jaiul Qawayed is a rare codex in the subject of Syntax (1576 A.D) and about etymology a commentary on As Shafia written during the period of Nizam II in one of the prized possessions of library.
Persian Manuscripts
There are about 4,700 Persian language manuscripts. The most outstanding of these is Rauzatul Muhibbin, which contains twenty illustrations belonging to the Bukhara tradition and was transcribed by the famous calligrapher Mir Ali Harvi. The oldest manuscript on Sunnite commentary is A'I Basair fil Wujuh wan Nazir, written in 1207 A.D, in Arabic Naskh. On Tasawwuf (Sufism), the most valuable and useful treatise is attributed to Bayazid Bustami, who transcribed it in 1588 A.D.
There are manuscripts about art, science, divination, astrology, magic and archery. There is one codex on agriculture and several codices on precious and semi-precious stones. On the art of calligraphy, the Museum has several manuscripts, in cookery there are two manuscripts entitled Dastur-e-Pukhtan-el Atamaah written for Shahjahan. There is a codex on the preparation of perfumes too.
In medicine the oldest Arabic translation in Persian is Tarjuma-e-Minhajul Mayan written for Shahjahan by Muhammad ar-Radi. The Museum also has the oldest medical encyclopedia transcribed in India. In veterinary sciences, the codex Mualaja-e-Janwaran is the earliest available manuscripts on the treatment of animals and is dedicated to Firuz Shah (1281 A.D).
Urdu, Turkish, Pushtu, Hindi and Oriya Manuscripts
The Salar Jung museum Library has more than 1,200 Urdu manuscripts on different subjects in which, Diwan-e-Quli Qutb Shah by King Muhammad Quli and Nurus by Ibrahim Adil Shah and a rare manuscript entitled 'Lilawati, on Mathematics and more than 25 manuscripts in Turkish and some Hindi manuscripts are in Persian script and some folios of Jaina Kalpasutra and a few palm leaf manuscripts in Oriya, Sanskrit and Telugu on the subject of History, Medicine, Tantra and Poetry are also present.
Research and Publication
Salar Jung Museum has published 19 descriptive catalogues of manuscript details, each having title, author, chronology, illustrations, seals and autographs. The Museum has also published a rare copy of the Holy Quran which consists of only 30 folios with each line beginning with the first alphabet of Arabic, the alif. Research on parchment is also being conducted by the Museum's Manuscripts section.